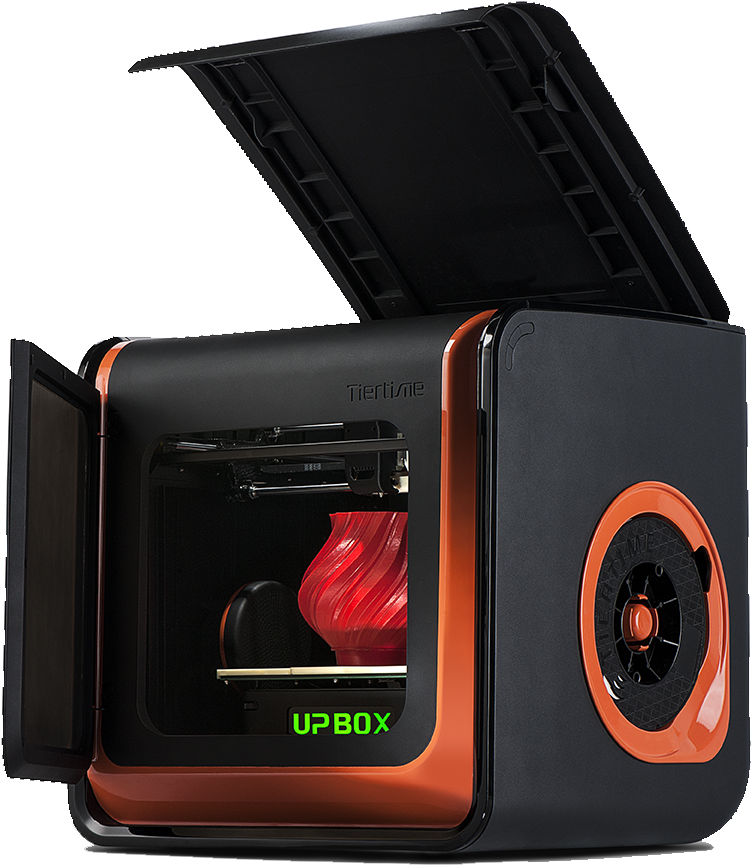 A world leading 3D printer for your desk
HEPA filter to remove air-borne contaminants.
Industrial design with internal steel chassis.
Impressive HD 100 micron 3D print resolution.
Fully automatic platform leveling and height sensing.
Improved 3D printing speed – 30% faster than a UP Plus 2.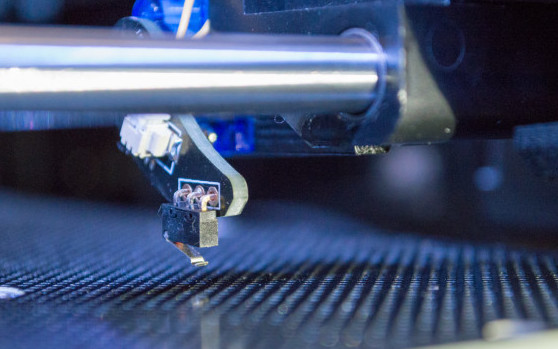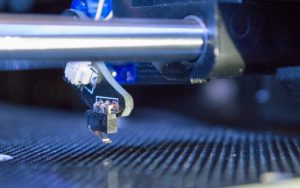 Turn on Autopilot
Automatic Calibration
Using a 3D Printer just got easier, the UP BOX+ features fully automatic platform leveling along with fully automatic platform height detection.
Smart Support
Any 3D printer can make a gnome or rabbit, but if you are serious about 3D printing then consider how long it will take you to remove support material from a complex model. Save yourself hours after printing. No other printer can match the UP's easy Smart Support removal. Ask for a sample today and compare it for yourself.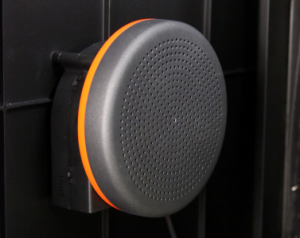 Active Air Filtering
All 3D printers when printing with ABS or PLA have been characterized as high emitters of Ultra Fine Particles. See the report on UFP emissions: http://goo.gl/Eb2SAo. Having a 3d printer with HEPA air filtration system dramatically reduces your exposure, especially in an office or classroom environment.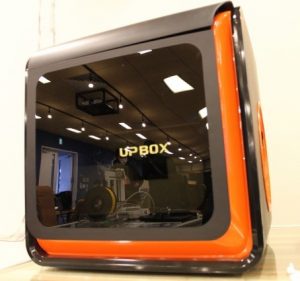 Ideal for the Prosumer
The New UP BOX+ 3D Printer can print professional (100 micron HD detail), huge, tough and functional parts faster and more affordable right on your desk. Print quality is comparable to large industrial 3D printers.
Create Super sized parts
The UP BOX+ packs a punch with it's enormous LED lit build volume, allowing you to create multiple parts in one go or just huge 3D prints.
Don't just take our word
You've heard what we love about the UP BOX+, now take it from the people who have used the UP BOX+ and are thrilled with the results!
| | |
| --- | --- |
| Build volume | 255 x 205 x 205 mm (W x D x H) That's a whopping 10.5 liters! |
| Smart Support | Intelligent Smart Support, printed in the same material, printed at a lower density and built automatically by the included 3D printing software UP Studio. |
| Selectable layer resolution | 0.1 mm (100 micron), 0.15 mm 0.2 mm, 0.25 mm, 0.3 mm, 0.4 mm – That's a ultra fine HD detail of 100 microns! |
| Platform Levelling | Fully automatic leveling with integrated leveling probe – no human interaction required. |
| Platform Height | Fully automatic height sensor – no human interaction required. |
| Average noise | 51.7 dB – as quiet as your fridge. |
| Air filtration | Inbuilt HEPA filter – removes microfine particles. |
| Lighting | Active heartbeat mood lighting, provide visual feedback on the print status. |
| Dimension | 485 mm width, 520 mm depth, 495 mm high. |
| Weight | 20 kg. |
| | |
| Power input | 110-220VAC, 50-60Hz, 220W. |
| Connectivity | USB (Print job stored and spooled to Printer, ability to turn off the computer during printing) |
| Consumables | 1.75mm ABS Plastic Filament and PLA which is ideal for lost wax or investment casting + wide range of experimental materials like wood, copper etc. |
| Warranty | 12-month return to base. |
| Software | STL 3D layout and printing software included free: Windows (XP, Vista, 7, 8, 10) 32/64 bit and MAC OSX 10.7 Beta |
| Unboxing time to print | 15 minutes. |

What you get in the box
Everything you need is in the box, ready for you to start turning your ideas into real parts. You don't require any extras. We even give you a free roll of white ABS plastic filament included with your new 3D Printer.
UP BOX+ desktop 3D printer.
One free 500g spool of 1.75mm tough ABS white plastic filament.
Build Platforms.
USB Cable.
Selection of tools to maintain and self service the printer.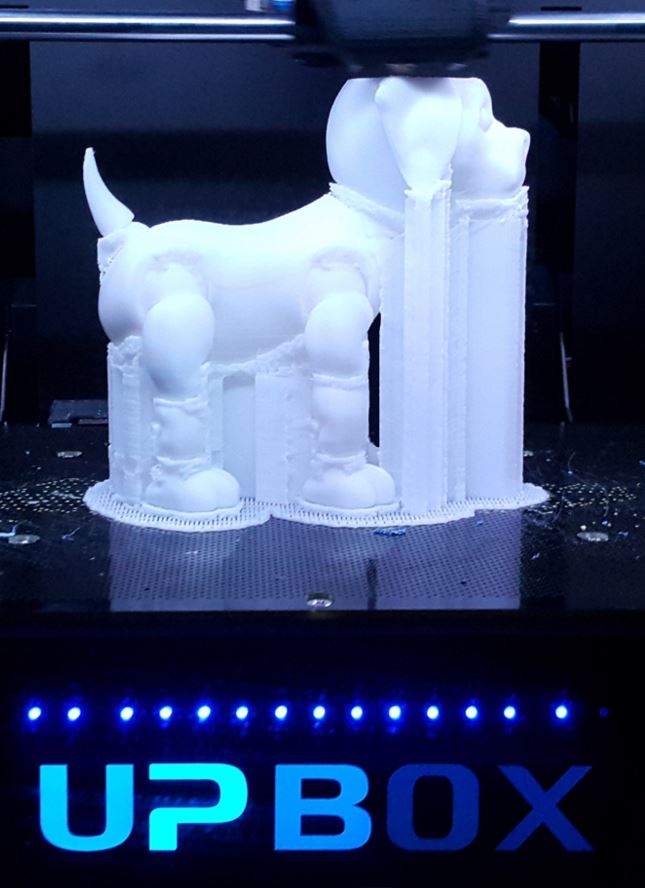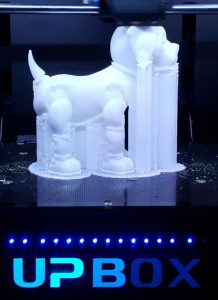 Any 3D printer can make a gnome or a rabbit, but not any 3D printer offers the same precision, dimension accuracy and out of box experience than a UP BOX+ does. Combined with Smart Support technology makes removing support material from your printed model a breeze.
The included UP Studio software included with your UP BOX+ 3D Printer is very easy to use and is very smart. It automatically calculates the required support material for the most demanding 3D models. Just load any STL file (Just about every 3D CAD modeling software can export to STL). It doesn't matter how complex your 3D model is, it will churn through the 3D model at lightning speeds and then start printing it out.
Scale, Rotate, Move & Print.
Supported File Types: STL.
Extrusion temperatures 260 and 200 degrees.
Print Preview with material usage and time estimates.
Automatic placement.
Rotate, resize, scale, move 3D object.
Select layer thickness.
Select print speed vs. quality.
Variable fill of models with honeycomb fill.
Fine to large honeycomb mesh.
Smart Support.
Repeat last print.
Automatic Support material angles, 10 to 80 degrees.
With our main support centre in Rustenburg and our reseller in Cape Town and free phone support between Monday to Friday, we're just a phone call away. On weekends, you might catch us, but it is unlikely as we'll be enjoying our hard earned break.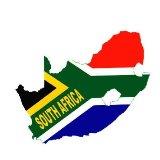 We're passionate about providing you with outstanding customer service with your new UP BOX+ 3d printer. Whether it be free phone support, knowledge base, extended warranties or local support centres. We've got you covered.
Are you ready for the ultimate 3D Printing experience?