UP mini 2, Ideal for Education
The Up mini 2 is a versatile 3D printer, part of the UP 3D printer family. It is compact and portable, loved by students and teachers
We are committed to help every school experience the educational possibilities of 3D printing.
We work with you to overcome the unique challenges you face. We can recommend the best educational 3D printers for you to achieve your most wanted teaching outcomes. We also provide ongoing email and telephone support backed by a 12 month parts replacement warranty.
Get in touch right now to discuss your needs:
3D Printing in the Classroom – Stimulate, Engage and Inspire Your Students.
If you've seen a 3D printer in action in a classroom, you already know by now that it engages and inspires students. 3D printers also make it easier for students to bridge the gap between the abstract and concrete aspects of the learning process because they can print out and inspect their designs.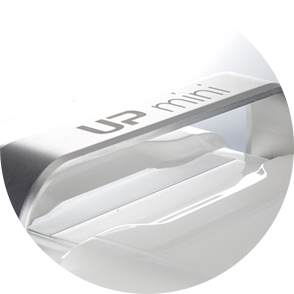 The Benefits of 3D Printing in Schools are Fast Coming to Light:
Design-based maths and physics knowledge

Improved spatial awareness

Better collaboration skills

Improved numeracy

Better problem solving skills
Students Use 3D Printers in Many Ways:
Some students print mathematical spatial forms or molecular structures, others create tools or replacements for broken parts. Some even print out equipment for their schools like rulers, frames and holders. It's not hard to see why 3D printers have become a must-have for Science, Technology, Engineering and Mathematics education.
We believe that 3D printers will be as commonplace at home and at work as laptops are right now. Graduates who enter the marketplace with 3D printing knowledge and experience will have a distinct advantage in the workplace over students who have yet to learn about the technology.
This is Why We Feel the Best Time to Introduce This Technology Into Your School is
Now.
Our expert team will be more than happy to assist you with any details you need or questions you may have, so you can be sure you make the right choice.
Get in touch straight away below to talk to us:
Easy to Use
Just plug it in and start to play. Less of a learning curve for teachers and students.
Durable
High-quality parts and casing makes it student-proof.
Reliable
Engineered and manufactured to high standards so that you get quality prints time after time.
Affordable
An investment that will fit your budget and provide excellent value.
Power Failure
Don't worry if the power fails you can restart your print when the power is back on.
Supported
We provide email and telephone support and guidance.
We quote for commissioning and training of teachers on request.
Safe for Schools (HEPA Filter)
Active Air Filtering
All 3d printers when printing with ABS or PLA have been characterized as high emitters of Ultra Fine Particles.
Having a 3d printer with HEPA air filtration system dramatically reduces your exposure, especially in an office or classroom environment.
Don't Delay! Get in Touch with Us to Discuss Your Requirements:
Watch the 3D Printing Education Case Study below…