UP Plus 2
Small on size, Big on features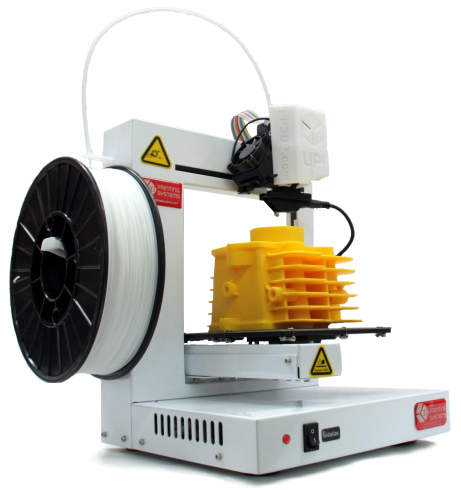 Small in size, big on features

Redesigned model inside and out, engineered to provide continuous dimensionally accurate 3D printed parts.

Best-in-class desktop 3D Printer and easiest to use.
Innovative auto leveling platform, calibration, and an automatic height sensor.
Improved 3D print spooling speed.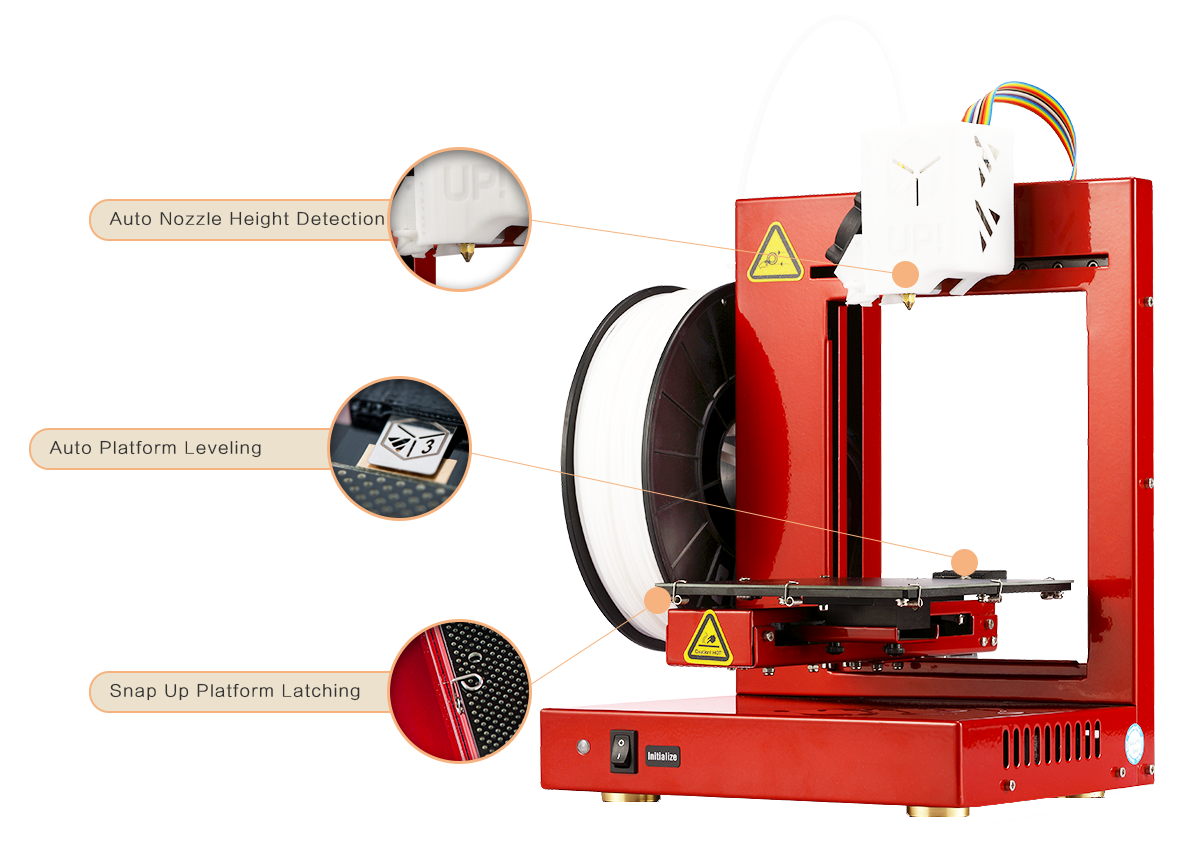 Using a 3D Printer just got easier, the UP Plus 2 features automatic platform leveling along with automatic platform height detection. The UP Plus 2 is the latest version of the award-winning UP Plus 3D printer. It is closely based on its predecessor, but with a host of innovative new refinements. The best way to print quality 3D models right from your desk for visualisation, collaboration, and functional prototyping testing.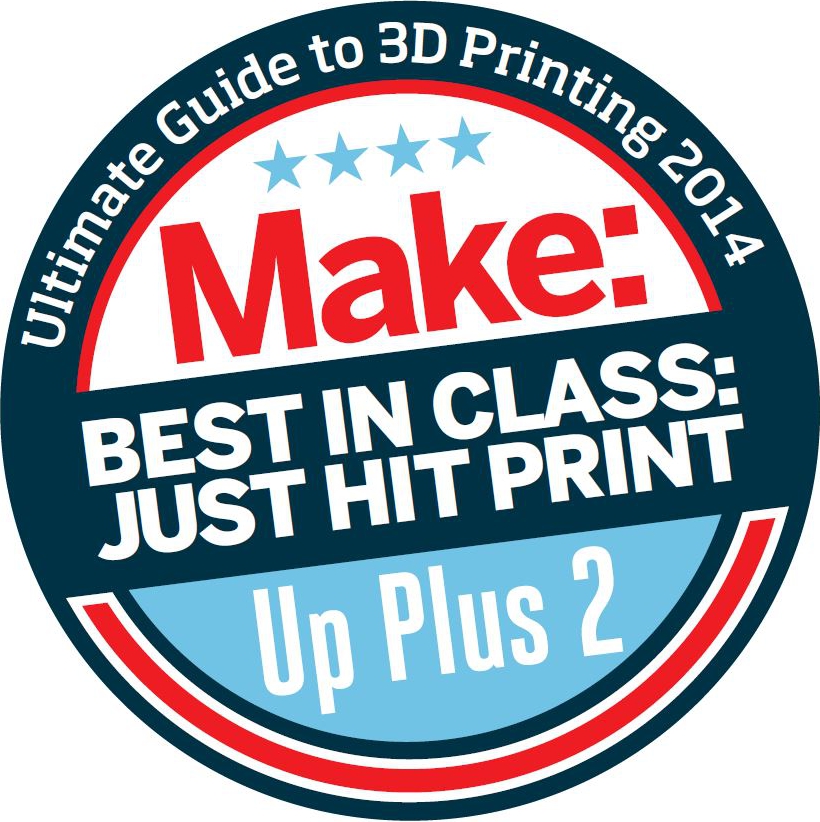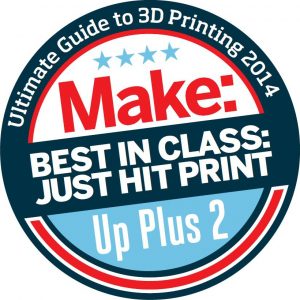 Award-winning 3D printer
The UP Plus 2 is based on the award-winning UP Plus 3D Printer (also known as Afinia in the USA) that won the Make Magazine Ultimate Guide to 3D Printing Buyer's Guide Competition.
The only printer that managed to print the owl's nostril was the UP 3D Printer, even 3D printer bureau parts from Shapeways and Ponoko didn't manage this test correctly. Watch some of the results 19 minutes into the video http://www.youtube.com/watch?v=x4plMvIzlA0.
"A clear winner and easy to use, with feature-rich software and impressive print quality."

– Make Magazine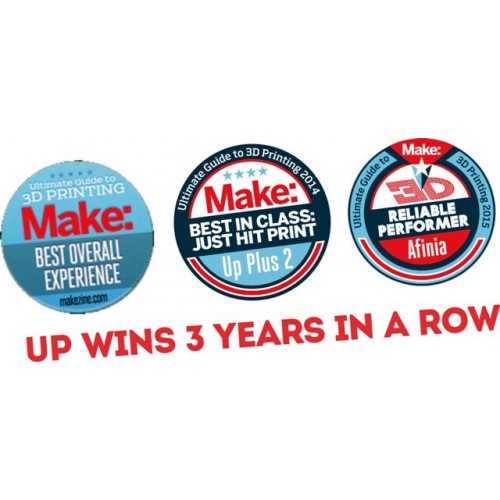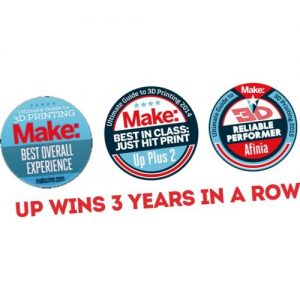 Best in class: Just hit print.
Whether you're new to 3D printing or just want a machine that prints without the hassle, the New UP Plus 2 is for you. Make magazine have completed their second 3D printer roundup. We are proud to say that the UP Plus 2 won Best In Class: Just hit print- making the easiest to use a 3D printer on the market. Read more about it on our blog.
30 minutes
Unbox to Print in 30 Minutes
Smart Support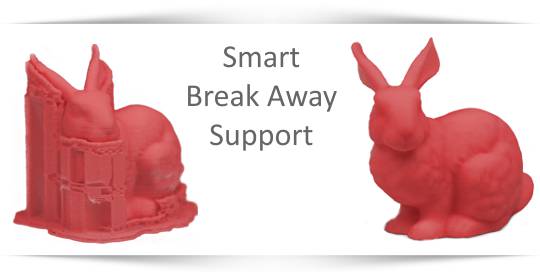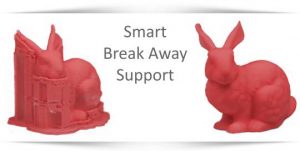 The clever 3D Print software that comes with your 3D Printer does the hardest job of all. No matter how complex your 3D model is, the print software will work out where it needs to support the model during printing. The 3D Printer prints the support material in a lower density at the same time as printing the part.
Create Super Large Parts
Just because it's a desktop 3D printer, doesn't mean you can't make super large parts. By slicing your model into several components, then printing and gluing together, you can make some impressive models. For example, the Eiffel Tower in the picture stands nearly a meter tall and is made of thirteen separate parts. Amazing engineering, amazing 3D printing.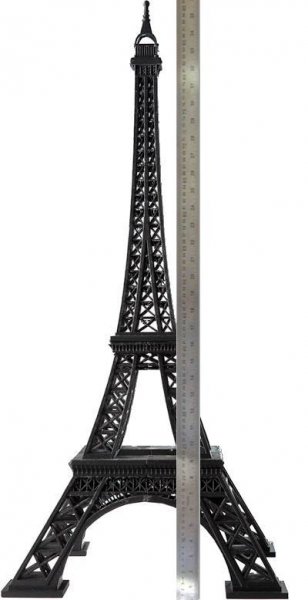 | | |
| --- | --- |
| Build platform | 140 x 140 x 135 mm (W x D x H) |
| Smart Support | Intelligent snap off support material, printed in the same material, printed at a lower density and built automatically by the included 3D print software. |
| Selectable layer resolution | 0.15mm (150 micron), 0.2mm, 0.25mm, 0.3mm, 0.4mm – That's a super fine detail of 150 micron! |
| Raftless printing | Yes. |
| Print speed | 3-30mm3/sec. |
| Dimension | 245mm width,260mm depth, 350mm height. |
| Weight | 5kg. |
| Shipping Weight | 10kg. |
| Power input | 110-220VAC, 50-60Hz, 220W. |
| Connectivity | USB (Print job stored and spooled to Printer, ability to turn off the computer during printing.) |
| Consumables | 1.75mm ABS, ABS+ Plastic Filament, 1.75mm, PLA Plastic Filament, non-proprietary third-party materials. |
| Warranty | 12-month return to base. |
| Software | STL 3D layout and printing software included free: Windows (XP, Vista, 7, 8, 10) 32/64 bit and MAC OSX 10.7 Beta. |
| Unboxing time to print | 15 minutes. |

What you get in the box
Everything you need is in the box, ready for you to start turning your ideas into real parts. You don't require any extras. We even give you a free roll of white ABS plastic filament included with your new 3D Printer.
UP Plus 2 Desktop 3D Printer.
One free spool of 1.75mm tough ABS plastic filament.
Perfboard x 3.
USB Cable.
Selection of tools to maintain and service the printer.

New UP STUDIO software released!
Tiertime has released new software for 3D Printing to replace current UP 3D software.
UP STUDIO is still in its BETA phase and comes with a truckload of new features like WiFi Connectivity, Mobile compatibility, built-in help and support videos, custom material profiles, and that's only to name a few of them.
Wi-Fi Connectivity
The new UP Mini 2 boasts new wi-fi connectivity for ease of use when it comes to allowing the transfer of jobs, all while maintaining the 3D printer wirelessly. Easily switch between printers connected to the network, and also the provides easy access to quickly view unique printer information like serial numbers.
Mobile Device Compatability
UP 3D Printers, now being truly portable with the introduction of the UP STUDIO application available on Apple App Store, providing wireless capabilities of your 3D Printer on the Go! Being almost exactly the same as the desktop application, most functions like 'change over filaments, monitoring your print jobs, scale, rotate or move your models before printing them.
Built-in Help and Support videos
Don't hesitate if you get stuck or don't know how with UP STUDIO you get a built-in growing library of videos to help and support your 3D Printing experience.
Custom Material Profiles
It has arrived, a feature we have been waiting for years. Custom Material Profiles has been incorporated into UP STUDIO allowing you to create custom material profiles, and change the nozzle temperature, as well as the heated bed temperature.
This allows you to print with a wider range of materials, not only the UP range of materials.
A user can access custom material profiles by logging into their UP 3D accounts, this allows you to access your materials across all your devices.
Improved Object Editor
The software has improved a lot by incorporating features that allow you to scale, rotate, and move objects without having to type out the values to change or transform an object.
Select which axes you want to affect and drag your 3D handles. Users also gain the option of selecting preset values for rotating, scaling, and movements.
Print Photographs and Images in 3D
Upload photos or graphics, adjust some settings and watch your images print out in 3D!
UP STUDIO enables the options to import images, 3D objects, and can convert them into a printable object, still in its infancy it still lacks high-quality results for now.
Download UP STUDIO Now!
To download the UP STUDIO software, go to the support center to download either the x64 or x86 versions for your machine.
To download the Mac app and iOS app, visit the relative app stores available.
With our main support center in Rustenburg and our reseller in Cape Town and free phone support between Monday to Friday, we're just a phone call away. On weekends, you might catch us, but it is unlikely as we'll be enjoying our hard earned break.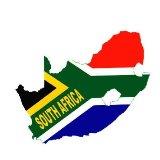 We're passionate about providing you with outstanding customer service with your new printer. Whether it be free phone support, knowledge base, extended warranties or local support centers. We've got you covered.
Are you ready for the ultimate 3D Printing experience?